The last post I had was me finishing up with the original manifolds and adding v-band flanges to them.   The next thing up is the bracket the T6 turbo is bolted to. I picked up some square tubing and made a bracket for it, along with some tubing and a mandrel bend.  Not pictured is the 3/4″ T6 flange, T6 form and 2.5″ -> 3″ merge.  I'll take better pics of the turbo bracket with the T6 form and merge pipe tack-welded on.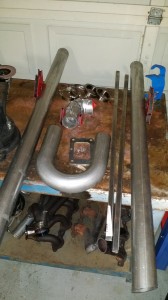 I had to use (1) 1/4″ T6 flange and (1) 3/4″ T6 flange, kinda pancaking the two on top of each other because the turbo hit the bracket since I flush-mounted the 1/4″ T6 flange…I needed a little more than a 1/4″ clearance so I just added 3/4″ to make sure I had ample room.
Turbo bracket being fabbed up..
Here's the turbo bracket with the 1/4″ T6 flange flush mounted.  If you notice, I have the turbo to be mounted on the passenger side.  Little did I know that this wouldnt work unless I did some cutting where the turbo bracket butts up to the radiator "bracket/frame".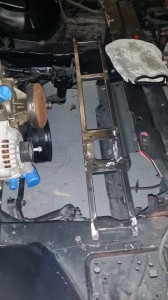 Had to drill 2 holes in the square tubing on the turbo bracket.  I didnt want the bracket permanently mounted in the Camaro, just in case I one day wanted to run a twin turbo setup or something.. That drill press is a Craftsman 12″ that I picked up off of Craigslist for $90.  Damn thing is $179 from Sears.  Good deal there.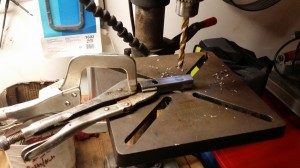 If you look at the ends of each turbo bracket, you'll see a square steel plate.  Thats where the bracket will be bolted to.  I tack-welded it in place then clamped it to get a rough guesstimate where it would be bolted to.  Look closely at the T6 flange where the turbo is mounted.  You'll see that I had welded the 3/4″ T6 flange on top of the 1/4″ flange I had welded flush there.  Also ended up mounting the turbo on the drivers side since I have very little room on the passenger side and didnt want to do any cutting.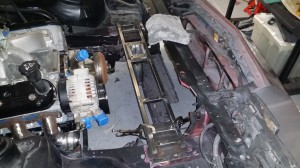 Here's the T6 turbo bolted down to the bracket, along with the bracket bolted down to the 1/4″ square tubing thats tack-welded to the frame.  Just need the drivers side exhaust to the merge tubing, then its either the rest of the hot side to the exhaust or from the turbo to the carb hat.