This will probably be the last version of PiDash I put out since I think it does what its supposed to do.

The purpose of my PiDash is to allow users of EFI Source Gold Box/Megasquirt EFI boxes a PiDash you can put in your car to monitor/tune your vehicle for FREE (other than buying TunerStudio from EFI Analytics). The previous versions require some sort of Linux knowledge and the willingness to tinker in Linux. The problem is when people want a simpler turn-key solution, it might put off someone from using this and they'll end up paying for something that isnt worth the price they paid.

This version of my PiDash includes the latest BETA version of TunerStudio. You can use your registration code if you already have one to register this copy.

PiDash v04272020 has the following:
1. Fast boot like previous versions
2. WiFi hotspot for direct connections to your PiDash
3. SAMBA for transferring data to/from your PiDash
4. WiFi networking to transfer files to/from you PiDash via a network

Late Bug Fix:
1. When running Enable Network, doesnt display IP address. Fixed it in "enablenet.sh".

NOTE:
This works on a Pi 3B+. I'm using a Pi4 because its newer/faster.

REQUIREMENTS:
Raspberry Pi4 (2GB version is fine) $45
16gb microSD card $6
Longrunner 7″ touch screen $62
Windshield mount (if thats what you're doing) $15
Raspberry Pi4 aluminum case with dual fans $25


There is only ONE IMAGE available which covers both Longrunner 7″ Touchscreens and then stock displays.
1. DOWNLOAD FROM THE PiDash Wiki page

HOW TO CONFIGURE LONGRUNNER and YOUR DISPLAY:
If you have a display other than Longrunner you may have to put in the correct settings in the config.txt file. If so, write the image to a 16GB microSD card (in Windows use Etcher) and edit the config.txt file with Notepad. Scroll to the bottom of config.txt and remove the "#" sign as stated in the pics below starting with "max_usb_current=1". Then save the file, remove the microSD card, insert it in the Pi4 and boot it up.

If you have different settings, you can put them in the config.txt file at the end INSTEAD OF uncommenting as stated above.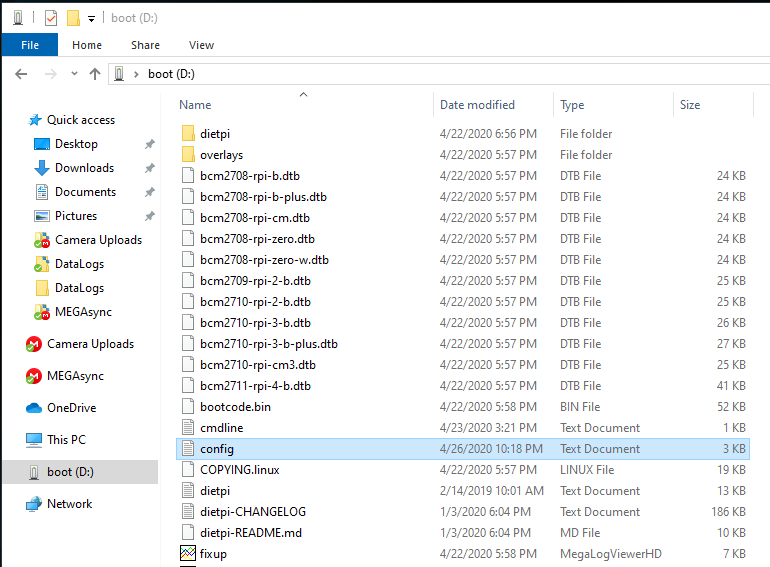 04/30/2020 PLEASE SEE THE PiDash WIKI. THIS IS OUTDATED in VERSION 1.5.2.
NETWORKING CONFIGURATION NOTE:
You only use Config-WiFi *once* to configure your wireless settings. If you mess up, run it again and it will recreate the template for you to edit.
04/30/2020 THIS IS OUTDATED SINCE V1.5.2. NEW VIDEO WILL COME OUT SOON.
The video below shows the features and how to enable WiFi Direct and WiFi via network access.
Any issues, just comment and I'll review.
Here are some pics of the latest 80 mile round trip to the parts store for some NGK BR7EF spark plugs. Had someone take pics of the engine compartment, crusin with Federales (LOL) and of course, the PiDash showing my 19MPG. 🙂