Very productive day off.  I installed the LQ4 and a gutted TH400 that way I can tighten the LS adapter plates and also the BMR TH400 3rd Gen Camaro crossmember.   After installing the engine I went to bolt the crossmember in.  No dice.  Cant get the engine/trans far back enough to bolt it on.  The original crossmember is maybe 1/4″ off if even that much, so I'm going to add some steel plate to it and bolt the transmission to it.   The JBA shorty headers I modified, well the drivers side hits the steering shaft.  I could modify it but it would take some time and I dont think I'm really gaining much HP over the stock modified manifolds.  Even though I'm going to use the stock modified truck manifolds, the drivers side didnt have enough clearance as it was close to the steering knuckle, so I had to shorten and re-weld the v-band flange to it.   After I modify the crossmember, I'll put a pic up.   On to progress pics..
Engine and trans going in all at once.  In this pic I'm holding the trans up to install the crossmember.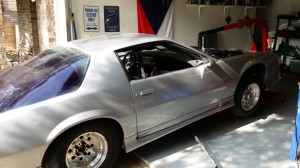 The gap between the Dirty Dingo EZ LS Conversion mounts and the Moroso solid motor mounts will need to be fixed.  I'm going to pick up some steel round tubing or have a friend of mine cut some for me.  Until I get that round steel tubing cut, I have vise grips holding the bolt from sliding.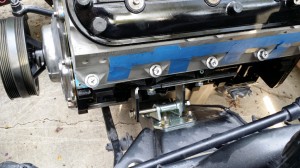 Truck manifold with v-band flange added.  I basically did this before I had the engine in, otherwise it wouldnt have been an issue and I would have known to cut it shorter.  As it looks in the pic, way too close to the steering shaft knuckle.  Will not have room for the v-band clamp.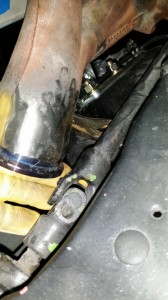 Modified truck manifold and I angled it a little towards the engine.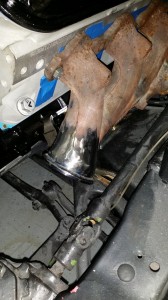 Full shot of engine in with both manifolds.